Please note that I no longer sell my music directly from my website but you can
order it using these links to the webshop of Groove Unlimited.
DIRECT LINKS TO WHERE YOU CAN ORDER MY MUSIC
Available on CD and as DOWNLOAD unless otherwise stated.
---
---
---
---
---
---
---
---
Life on Earth
Only available as DOWNLOAD

Click to order: Moon
---
---
---
---
---
For DOWNLOADS go to GROOVE'S DOWNLOAD WEBSITE and under the heading "Artists" in the
LEFT colomn, just select: John Kerr and then click on "Search".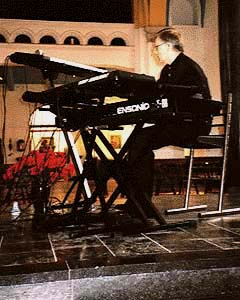 Photo © 1995 Doris Blömer